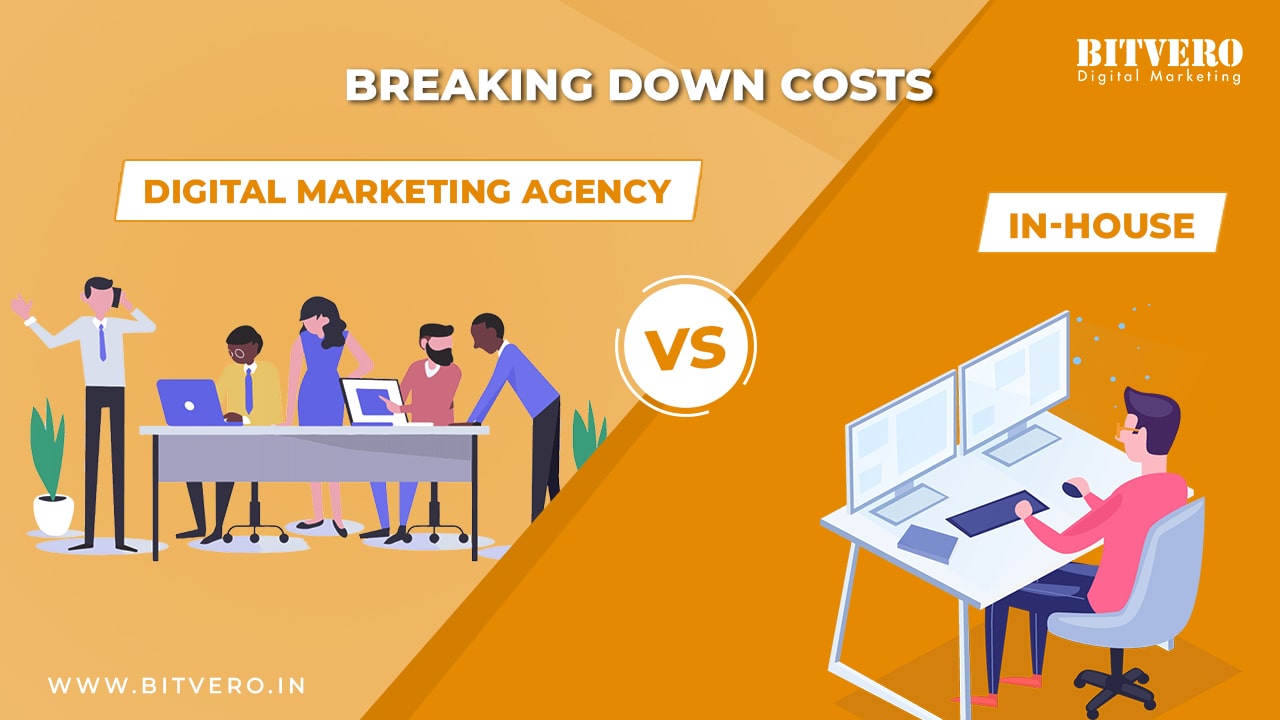 Digital Marketing is crucial for every type of business, whether a small firm or a big entity. It's what publicizes your business and generates the leads you require to expand.
While marketing may be common for all businesses, their marketing goals may differ. Every company has its own marketing strategies aligned with its business goals.
Some companies want to expand & gain popularity on a high level, while others strive to promote their brand in a local area.
Depending upon their business needs & marketing goals, companies choose how they want to market their business. Do they want to do it internally by hiring an in-house marketing team or outsourcing it to a digital marketing company?
For Example:
Big companies prefer an In-house marketing team due to the availability of required resources & expertise. Amul, Mamaearth, Zomato, Nyka, UrbanClap, & Netflix are a few brands winning their day-to-day marketing game through in-house marketing.
Small companies or new startups usually lack the revenue to dedicate enough of their budget to build an in-house team. Also, their marketing expertise & resources are not up to that level, so they mostly outsource their marketing job to a specialized digital marketing agency.
Mid-size companies, which are stable enough & want to expand their digital footprint, are usually stuck choosing between inbound marketing & an agency.
If you also own a medium size business & want to promote it but have no idea which option you should go with, this article will help you. Keep reading!
Ensure Success for Your Decision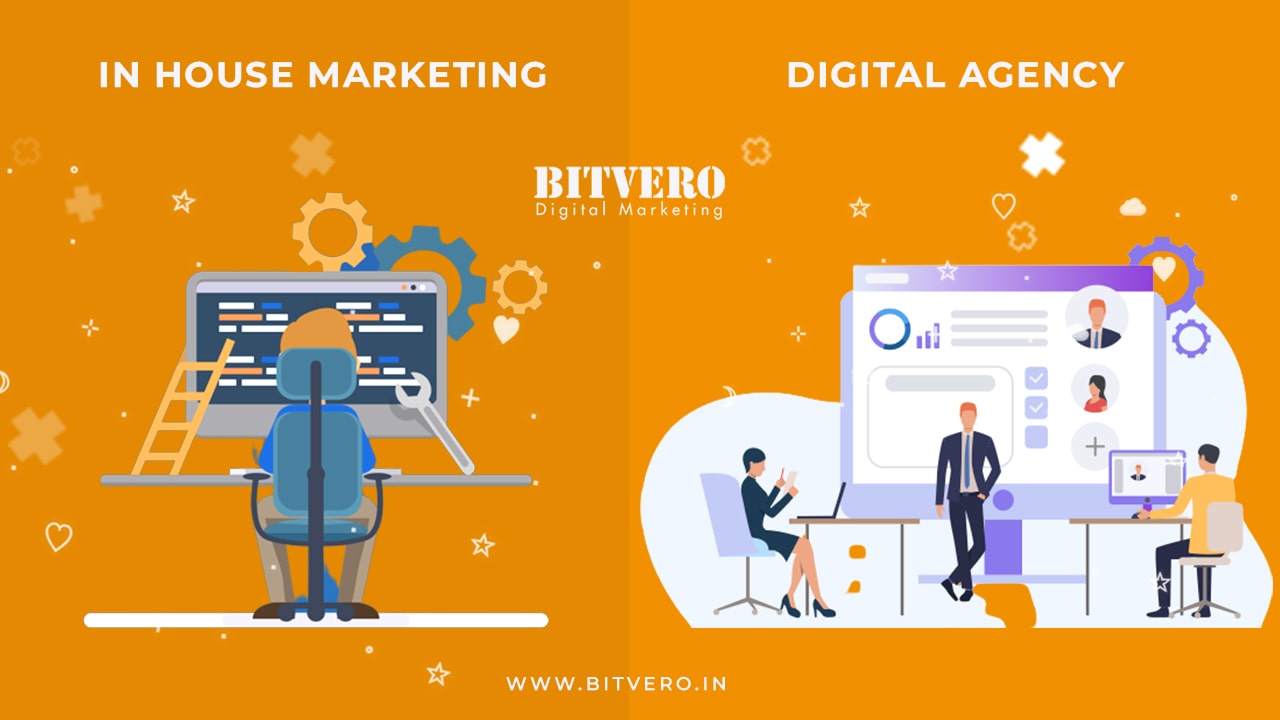 Choosing the best between the two – Inbound Marketing Vs Marketing Agency
Choosing between in-house marketing or an agency has always been debatable as they both have their pros & cons.  Neither is completely right or wrong or good or bad. The decision depends upon the business's nature & strategies, the available budget so on and so forth.
There are number of factors that help you to determine which option is a perfect fit for your business. While evaluating what option is right, consider the following things.
1. Who has a Deep Understanding of Your Business?
When you build an internal marketing team, they know every aspect of your business.
They're familiar with your brand's value & tone and have extensive knowledge of the products and services. Also, they assess the strengths & weaknesses of your business as well as keep an eye on your competitors.
On the other hand, when you hire a digital marketing agency, you will have to make them understand every facet of your business, which can be time-consuming.
2. Who will solely concentrate on your Brand?
The sole target of the inbound marketing team is to market your brand. They will give their full attention to your company and try to achieve positive results.
While a marketing agency will have multiple clients, they may not devote 100% of their time to your company.
3. You Will Have More Control Over?
You have full access & control over an in-house marketing team.
You can reach out to them anytime & assist them in making changes or updates to the existing marketing strategy.
You can ask them to create new offers & launch a new campaign. Also, you will be able to set the marketing budget accordingly.
On the flip side, exercising control over your marketing activities can be difficult when you have employed a digital marketing agency.
4. Who Has More Expertise?
Even if you hire the best candidates for your in-house marketing team, there are chances they don't match the level of skills a digital marketing agency expert possess.
Marketing agencies typically have a group of professionals with a wide range of expertise in various marketing disciplines, such as advertising, public relations, digital marketing, market research etc.
The limited knowledge of in house marketing team can limit their ability to execute complex marketing strategies, while the marketing agency has a wide range of experience not only in one field but in various industries.
They must have worked with clients from a branch similar to yours, that's why they will create the best strategies for your company.
5. Who has better access to Software & Tools?
Marketing agencies often have access to software and tools to help them execute marketing campaigns. These can include:
Keywords Research Tools
Online Advertising Tools
CRM Tools
Content Creation & Design Tools
Video Marketing Tools
Marketing automation Tools
Analytic Tools
SEO Tools
Social Media Tools
Your In-house marketing teams may also have access to similar tools, but they may not have the expertise to utilize them. However, agency professionals have good knowledge of and command over these tools, so they can better use them to achieve your marketing goals.
Additionally, agencies may have subscriptions or access to more advanced or specialised tools that in-house teams may not have the budget for.
6. Who can offer you a variety of specialties?
A digital marketing agency will give your company access to staff members who have expertise in things like:
In comparison, if you choose inhouse marketing, you will need to hire different candidates for different marketing roles because it is unlikely for a single person to have expertise in all the fields mentioned above.
7. Which one is most cost-effective?
Now that you know all the factors to consider while choosing between a marketing agency or an in-house marketing team, it's time to ascertain their costs.
Despite not being the only factor, the price remains the most important one to consider.
You can only spend some of your money on marketing as this is not only one area of your business which requires investment.
As per the recommendation of the U.S. Small Business Administration, you should spend 7 – 8 percent of your gross revenue for marketing and advertising if you're doing less than $5 million a year in sales and your net profit margin – after all expenses – is in the 10 per cent to 12 per cent range.
Now the most important question arises- Marketing agency or In house team, which will be more cost-effective?
Let's break it down!
Employee Cost: In-house Marketing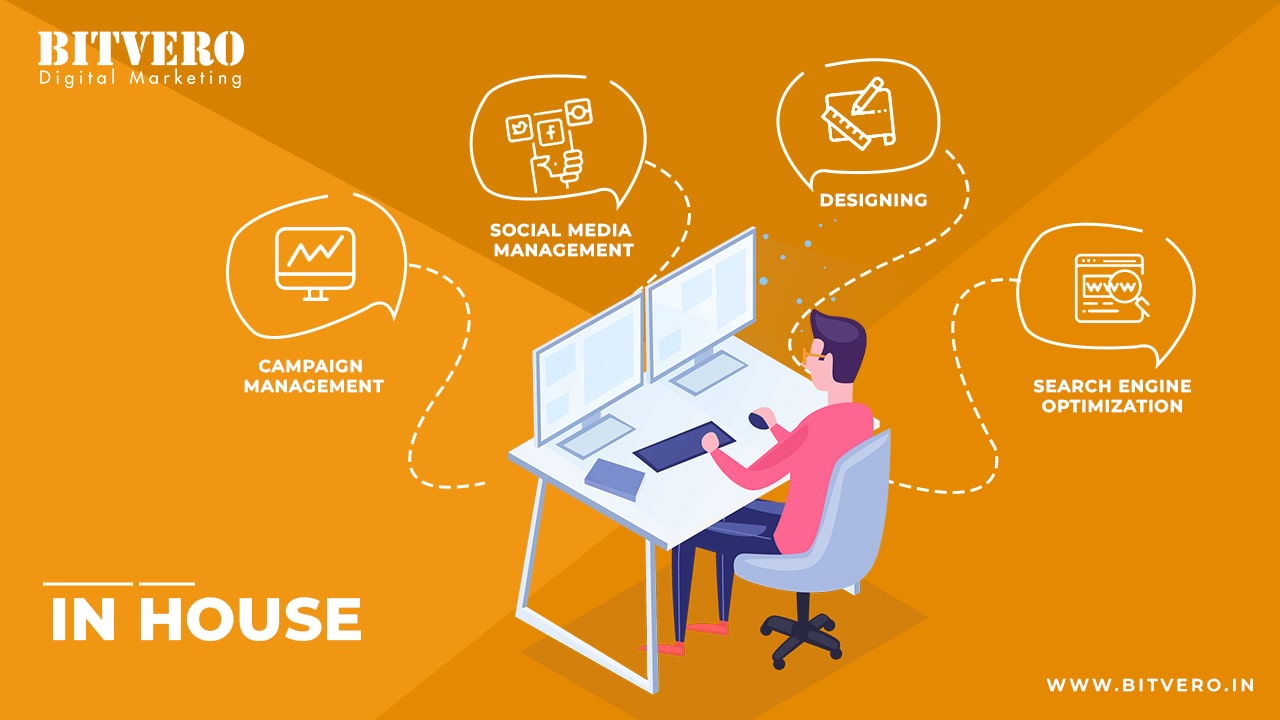 When you hire an internal marketing team, you have to bear various costs, which may include the following:
Cost of Hiring
First, you will have to spend a lot while hiring an in-house marketing team. These will include job advertising costs, recruitment costs, & training costs.
Cost of Maintenance
Maintaining an in-house marketing team won't cost you cheap, as you will have to hire several candidates for different marketing jobs. Let's look at the candidates you will have to hire for various marketing roles & their salaries.
IN-HOUSE MARKETING TEAM COST BREAKDOWN

Team Member
Average Annual Salary
Digital Marketing Project Manager
₹ 4.8 LPA
Digital marketing strategist
₹4.8 LPA
Social media manager
₹ 4.0 LPA
Content writer/creator
₹ 3.0 LPA
SEO Specialist
₹ 3.6 LPA
Graphic Designer
₹ 3.0 LPA
Total
₹ 23.2 LPA
Source:  Above figures have been taken from ambitionbox.com
In addition to the salaries mentioned above, you will also have to provide them with various benefits, including bonuses, health insurance, retirement, etc.
Costs Of Maintaining an In-house Marketing Department
Office Space Rent
When you hire an in-house team, you must provide them with a proper office. The larger your team, the more space they will require.  More office space will need higher rent and higher utility costs.
Equipment Expenses
A marketing team will require computers and phone access. The more employees you hire, the more general office equipment you need.
Software Expenses
Besides the cost of hiring and maintaining an in-house marketing team, you will also have to bear software expenses. These expenses can range from Analytics tools like Analytics softwares to SEO tools like SEMrush & Ahrefs etc.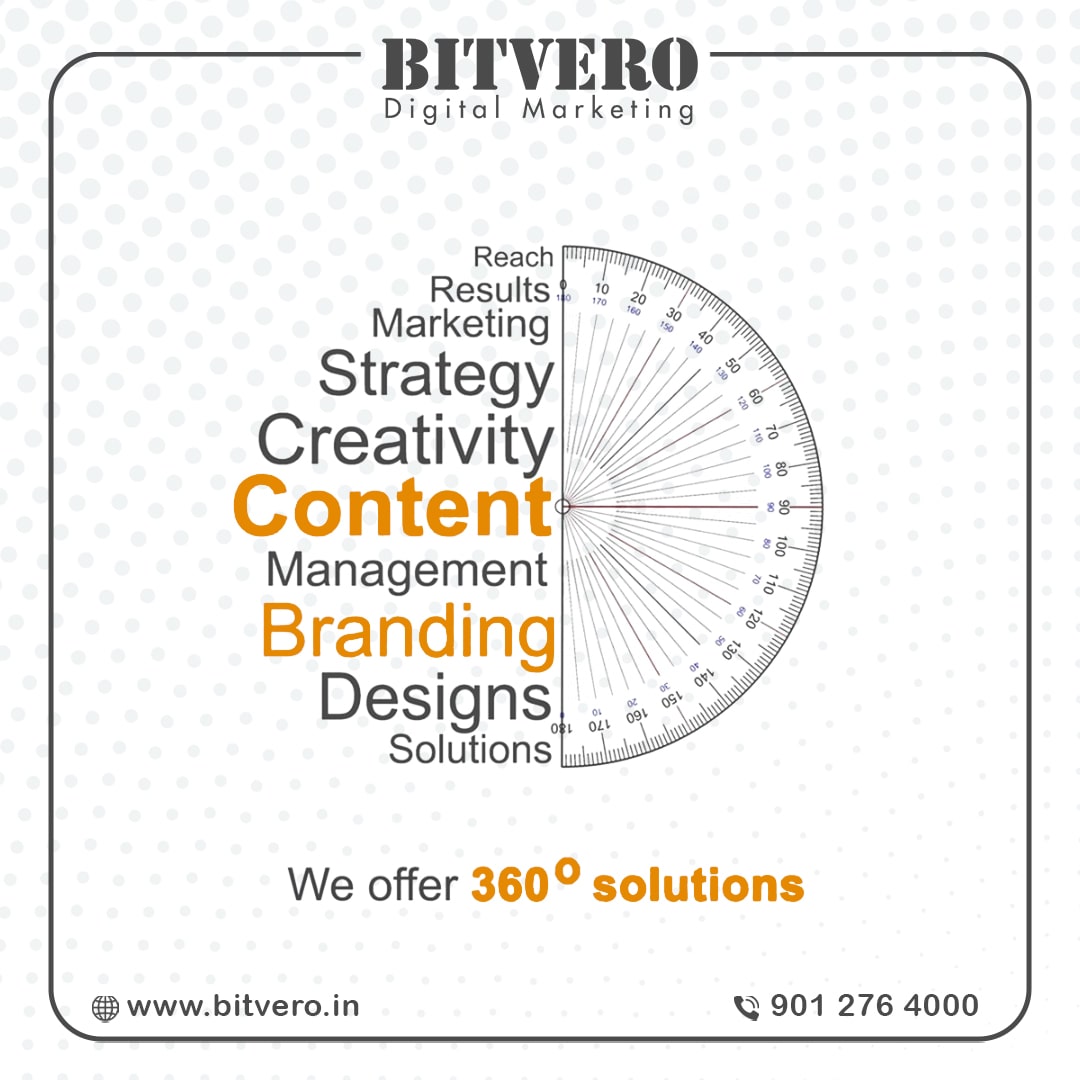 Hiring a Digital Marketing Agency over an In-House Marketing Team will be Worthwhile
As you can see, in-house marketing is not inexpensive. There will be numerous costs ranging from employee salaries to tool subscriptions. A digital marketing agency, on the other hand, is not like that.
You hire them, select from their plans, and pay a one-time service fee (which is significantly less than hiring an in-house marketing team) & you will have access to their experienced marketers who can help you increase your revenue.
Also, you don't have to worry about purchasing marketing tools as the agency pays to use them.
Besides cost, hiring an agency will also save you time & effort. You will not have to spend hours hiring new talents, researching the right tools, or understanding emerging market trends.
In short, hiring a digital marketing agency will be a win-win situation for you!
Wrap-Up
Finally, it is up to you to assess what is best for your company and make a choice.  Just keep the above-mentioned factors in mind if you want to win at marketing.  However, as far as the cost is concerned, then going with a digital marketing agency will be the right choice as it not only provide you with affordable service but is also efficient for your business growth.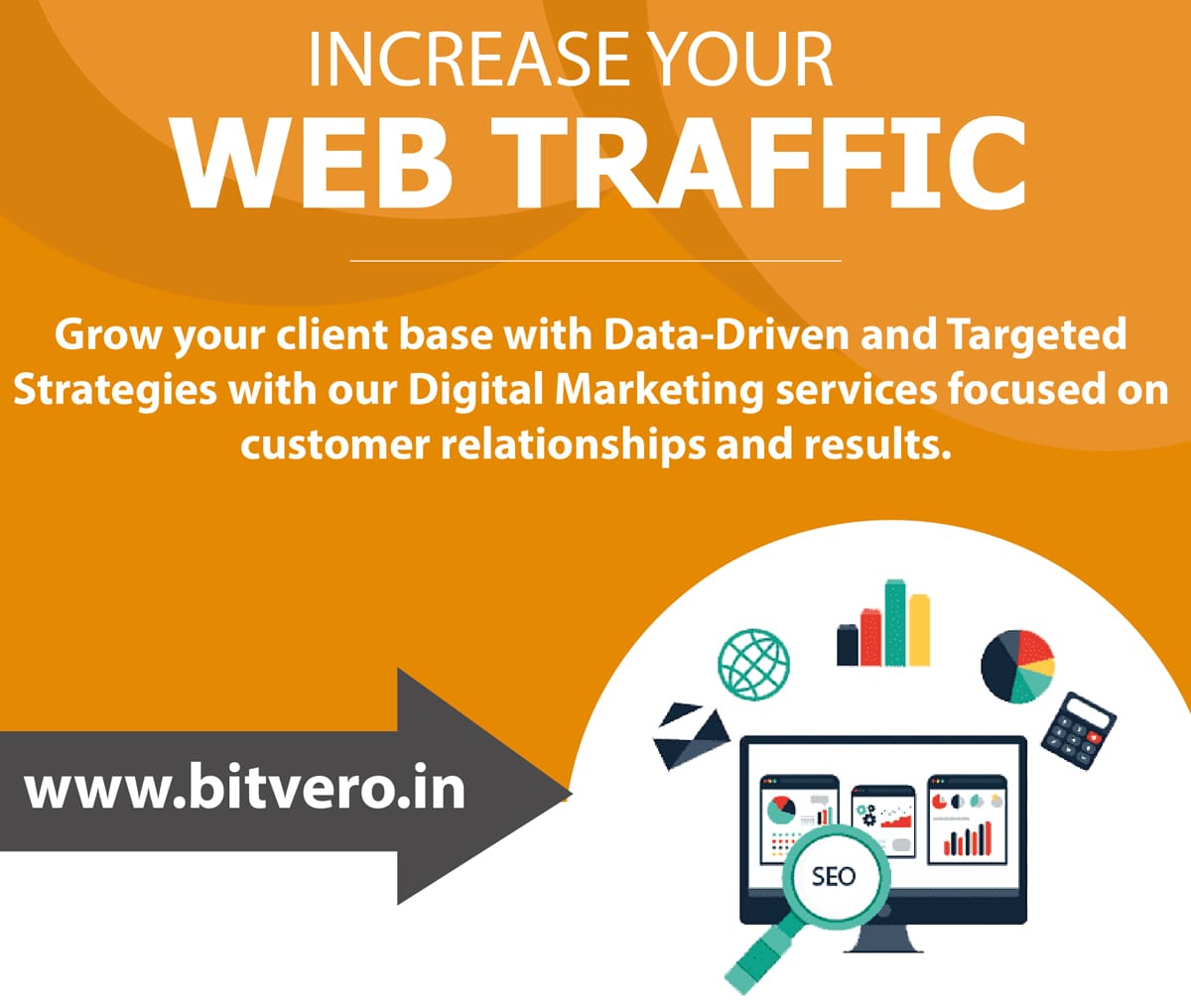 Bitvero – A leading Digital Marketing Agency
If you've decided to hire a marketing agency for your campaign needs, Bitvero could be a great option to go with.
We're an established Digital Marketing agency having a proven track record, we offer everything from SEO and PPC to Corporate branding and web designing. No matter what kind of business you own, Bitvero can handle any size marketing campaign.
Get a free quote. Call us at +91– 90127 64000
A team of digital marketing professionals who know the Art of making customers fall in LOVE with your brand!