Elon has an 89Million+ (8.9 Crore) followers on Twitter and finally bought Twitter on April 25, 2022.
About the Deal
The deal wrapped up $44 Billion in all-cash within three weeks. Elon first tweeted a 9.2% stake and, 11 days after, offered $54.20 per share and owned a 100% stake.
After a 9.2% stake, Twitter offered Musk to join the Twitter board, and he didn't. Instead, he cleared his intent to buy Twitter.
Musk paid a 54% premium over and above the current share of Twitter.
Let's take a look at the events.
On 31st Jan 2022, Musk started to buy Twitter shares and, by March 14th, owned more than 5% of the company.
On March 24, Musk advocated Twitter should be open source by pointing out bias in the Twitter algorithm.
On March 25, Musk added a poll on Twitter about Free speech essential for democracy.
On April 4, Musk's stake became public; Twitter CEO Parag Agarwal Tweeted to vote carefully on free speech.
The same day, Twitter invited musk to join the Twitter board, agreeing that he should not own more than 14.9% of the company's stock.
On April 9, Musk said he would not join the board.
On April 11, Musk filed an amendment with the Securities and Exchange Commission to buy more shares.
On April 14, after filing with SEC, Musk offered to buy Twitter for $43 Billion in Cash and make it private.
On April 15, Twitter thwarted Elon by infusing a poison pill which empowered the existing shareholders to buy more shares at a lower price and thus tried to dilute the buy-out.
On April 16, Jack Dorsey, the then CEO of Twitter, departed, as the board collectively owns no shares.
 On April 19, Musk was willing to invest up to $15 Billion of his cash to push the deal.
On April 21, Musk confirmed he secured $46.50 Billion in funding, $25.50 Billion from Morgan Stanley and $21 Billion from self-funding.
On April 24, the Twitter board started negotiations
On April 25, the Twitter board accepted and agreed to sell the company at $54.20 per share.
What musk feels about Twitter after the first stake of 9.2%?
Musk said he lacks confidence in Twitter's current leadership, and if his offer is rejected, he will sell his 9.2% stake.
The big question is, why did Elon buy Twitter?
And to find the hidden answers, we have to go back in time.
7th Jan 2021,
Musk tweeted to join the Signal app after slamming Facebook over the privacy policy of WhatsApp.
The moment he tweeted, the Signal app was downloaded 1.3 million times on Jan 11; before the tweet per day, downloads were 50000 only.
Signal started facing outage.
The signal is an open-source, non-profit platform backed by the signal foundation. Work more or less the same as WhatsApp with end to end encryption.
1st Feb 2021,
Elon Decided to join clubhouse, a new social media platform
Clubhouse is an invite-only app which means that you cannot enter or chat without an invite.
It is audio-based, with no text messages.
In Club-house, you can invite anyone for a virtual talk on any topic.
Ref. Facebook,
Musk cleared his stand and openly advocated for deleting Facebook. He even said that Mark Zuckerberg's knowledge of AI is limited.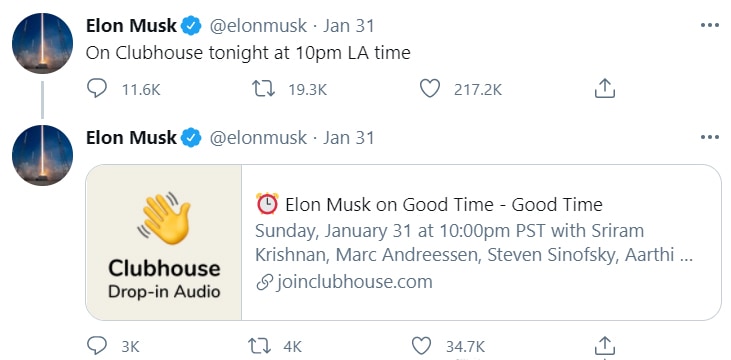 By this time, it was pretty clear that Musk was actively looking for a social platform for either
To buy or
To invest or
To create a social platform
On 27th March 2022, Musk said on Twitter; He is giving serious thought to launching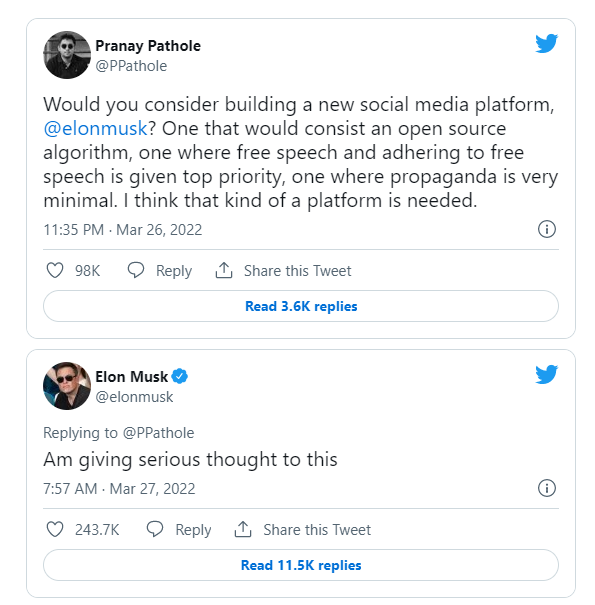 And unlike other social platforms, Musk was active on Twitter with millions of followers.
Musk's preference was evident since he joined Twitter in June 2010. having no presence on Facebook or Instagram; however, Musk recently joined LinkedIn with active followers of under 250 only.
Twitter
Twitter was first founded in 2006 by Jack Dorsey, Evan Williams, Biz Stone, and Noah Glass.
Noah failed in his early venture called Odeand o but later teamed up with the other three to build Twitter.
Now, What Elon is planning with Twitter?
Free speech
Elon says he believes in Twitter's potential to be the platform for free speech around the globe, and he thinks this will help facilitate a functioning democracy.
He believes it can be an essential platform for expressing free speech. He says he's investing in his interests — "and that happens to be tech companies."
New Features
Elon says, he will equip Twitter with all efforts to enhance free speech, even if we have to introduce new features.
Twitter empowers a global community to create, share, and discuss ideas in real-time. By creating technology that mirrors the way we think,
Twitter plays a vital role in helping us understand what's happening in the world. I believe that Twitter is more than just a platform. It's a public square where people from all walks of life can come together to express themselves freely.
Open-source
Elon again said he would make the algorithms open source to increase trust, defeat spambots and authenticate all human accounts. Twitter has tremendous potential – I look forward to working with the company and community of users to unlock it.
Author Note
I feel that open source will benefit Twitter users at large, and no doubt, free speech is the bedrock of democracy.
Elon is highly talented & hard-working,
All I can say is Twitter is in Good hands. Elon will do efforts to make the platform better for users.
Thank you
Hyder Ali Khan
A team of digital marketing professionals who know the Art of making customers fall in LOVE with your brand!