If you are trying to find the answer to the question, you have come to the right place.
Firstly keep in mind underestimating Google is obnoxious; thus, if you are planning to start a pay per click campaign upfront.
Then keep budgets not only for the campaign creation & Google ads management but also for spending in PPC in the hope that the PPC cost will be worth the return..
Thus the recurring cost is:
Campaign maintenance
Keywords bidding
For example, if you are keeping a budget of Rs. Fifty thousand per month on Ads, then monthly Google ads management cost will be 25000 and design cost is Rs. 100,000.
Google Ads Calculator by Bitvero shows an example (screenshot below) of PPC cost.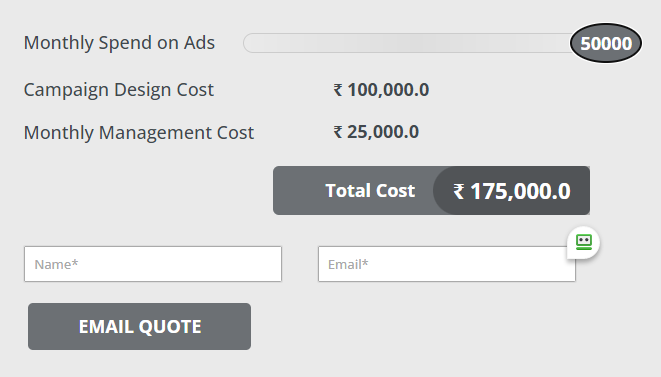 Although on the lower side, you can start a PPC Campaign with any budget. And Google allows that.
Perhaps campaign creation and management remain a challenging affair throughout the Google ads management journey.
If you are new, you may end up bleeding chips. But, moreover will earn invaluable experiences.
Thus if your time permits. You can learn PPC creation & management skills.
If not, then better to outsource the same to the right digital marketing company that can help you earn the expected ROI before your daily or weekly or monthly PPC campaign budget dries up.
Coming back to the topic of Pros & Cons to start a PPC campaign
Keep the first thing in mind that the moment you stop the PPC campaign, results will vanish, paid rankings evaporate; in a nutshell, Google will only serve you till you are paying Google via keywords bidding.
No matter the time you are connected with Google via PPC, paid ads will not serve once the bidding stops.
That means no reputation.
And yes, that's the hard fact.
Thus, what to do?
Look on the forefront; it is always recommended to have a Digital Marketing Campaign to create & save your organic reputation first.
If your budgets are minimal, we can suggest investing in Social Media Marketing Services with one or two targeted channels – Instagram, LinkedIn or Facebook.
Although if your budgets are elastic, consider a PPC Campaign with an acceptable amount to get the best of both worlds
Keep in mind to run both campaigns for a few weeks to months to test the waters.
Then depending upon the ROI & business cum marketing strategies. You can consider expanding.
Now, keep in mind a deciding point.
Do not hesitate to consult a Digital Marketing Specialist if you cannot derive any conclusion.
Conclusion
As per the topic demands, below are the pros & cons of starting a PPC Campaign.
Corporates with high budgets invest in digital marketing to achieve organic rankings and PPC & Social campaigns.
Businesses with a considerable budget also do not prefer to keep all apples in one basket. They keep trying different channels without compromising the organic method of digital marketing.
Firms with a low budget prefer one channel at a time. Be it digital marketing or PPC, or social campaign.
Start-ups and new businesses prefer to learn hard and remain in business.
Hope you may find the information helpful. Feel free to discuss this with us. If you want to know and discuss further, we are just a mail/call away.
Meantime take very much care of yourself & your business.
A team of digital marketing professionals who know the Art of making customers fall in LOVE with your brand!