If you are new to website reporting, understanding the dashboard is easy yet tricky,
Website reporting & analytics are underrated by business owners, sometimes fully ignored,
Reasons are many, starting no time, unable to understand, didn't see any value, what and how things change etc.
Let's first see the value you will have with website reporting
First time you can see your audience, their demographics, age, interest, etc.
You actually know what is in your website which your audience like
You now know where in your website your audience is spending their valuable time
How many of them are converted into successfully customer
You can now see the search terms people used to search and land on your website
Is anyone bouncing from your website?
Is someone returning again and again to your website?
Most visited pages in your website
From where exactly your audience is coming? Social channels or Google or opening directly?
Is your website most visited in mobile or desktop?
Who others are referring your website?
And many more questions well answered, only if you will give your little attention to it.
Let's dive in, don't worry
Just a few steps and you are in, I promise
Open the link https://accounts.google.com
Login with your email or create a Google account
You will see a demo store > Go to admin > create account
Set Account name & property name, feel free to use the name most relevant to your website,
Set the time zone & currency
Add your website details
Add the Urchin tag using Google tag manager, if you are using a site builder like wix use a global tag manager
Done
Google Tag Manager

Type account name, select country, website address and target platform
Google will give you a tag like this to install, you can forward that to your website developer.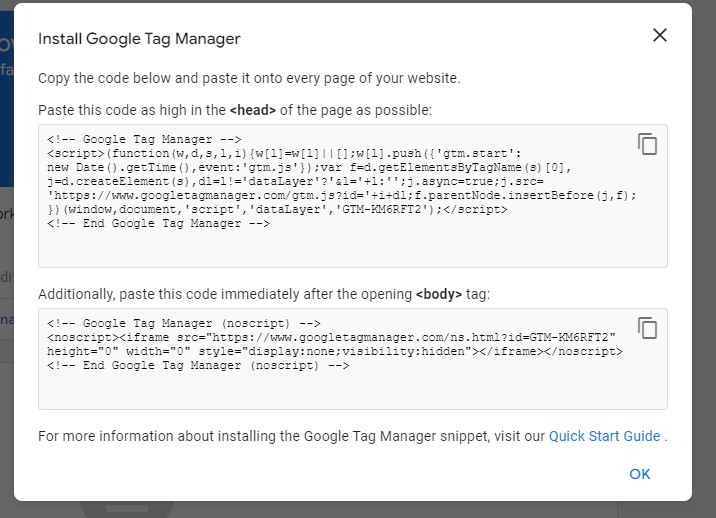 Above is the basic setup for installing Google Analytics.
3rd party tools for analytics
If you are looking for more intuitive options, you will find companies like SEM Rush, AHREFS, MOZ, however they are paid. Although provides an easy interface with a plethora of options in the form of metrics.
What you should ask from your Web design company?
Providing analytics to the customer is by default and is a must for search engine optimisation & marketing both.
However, consultancy on analytics depends on the digital marketing package.
If you are signing up for digital marketing services with exhaustive reporting or DIY reporting via Google or consultancy on reporting too.
A team of digital marketing professionals who know the Art of making customers fall in LOVE with your brand!